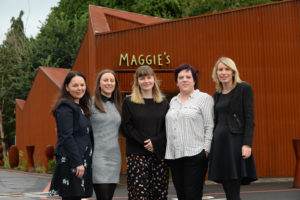 From left to right: Claire Binnersley, Bethan Williams, Erin Fury, Rachael Davies, Catrin Griffiths at Maggie's Cardiff (based within Velindre Cancer Centre).
We have partnered with Maggie's Cardiff. The new partnership allows for visitors of Maggie's Cardiff to meet with solicitors of our Private Client department, giving them access to make free Wills. The launch of this collaboration hopes to help many individuals and their families from the local community.
Maggie's Cardiff opened in May of this year. The Centre was designed by award-winning Welsh architects Dow Jones. The new centre will provide help for thousands of families in south-east Wales.
Maggie's is a charity providing free cancer support and information in centres built alongside NHS hospitals. The centres provide a breathing space away from the hospital where individuals can meet people who understand what they're going through.
Maggie's help people take back control when cancer turns life upside down, with support for anything from treatment side effects to money worries. Maggie's professional team provide help and information and run groups/activities, all designed to make coping with cancer easier.
Maggie's is open to everyone, helping individuals meet people in similar situations, find support groups and get advice from qualified staff at their centres. Maggie's are funded entirely by the generosity of supporters; they do not receive any government funding. Every penny raised locally goes directly to Maggie's Cardiff.
About Wendy Hopkins Family Law Practice
The solicitors taking part in the scheme are Catrin Griffiths, Head of Private Client and solicitor Claire Binnersley. Our Private Client team  are renowned for their professionalism, listening skills and ability to put clients at ease.
Our Private Client team provides expert advice on an array of complex issues such as Wills, Administration of Estate, Inheritance Tax Planning, Lasting Power of Attorney, Court of Protection and more.
Wendy Hopkins Family Law Practice and Maggie's are delighted to be working together, announcing the start of their new partnership to benefit members of the local community and surrounding areas.
Managing Partner, Melanie Hamer stated:
"We are pleased to be working in partnership with Maggie's Cardiff. Maggie's are an exceptional charity, providing crucial work and support for individuals and their families. Cancer affects countless people; therefore, it is important this collaboration takes place to support members of the local community at their time in need. Catrin Griffiths and Claire Binnersley are eager to work with Maggie's as a positive extension to the existing pro-bono and charity work, that they already carry out."  
Published 16/12/19