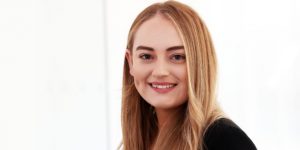 We are delighted to announce the promotion of Fay Jones to the position of Associate Solicitor.
Fay joined the Firm in October 2019 and instantly excelled, establishing herself as a valuable member of the team. Fay, originally from Ceredigion, obtained her law degree in 2018 from Cardiff University and subsequently returned to Cardiff to complete the Legal Practice Course (LPC) and Master of Laws (LLM).
Throughout her training contract, Fay played a pivotal role in assisting senior team members on high-net-worth cases, gaining valuable practical experience. She successfully completed her training contract and qualified as a Solicitor in October 2021.
Since qualifying, Fay has assisted clients in every aspect of private family law, including divorce & dissolution, separation, finances, children matters, pre & post nuptial agreements and cohabitee disputes. Moreover, she can provide these services in both English and Welsh. Clients have praised Fay for her in-depth knowledge of the law and her empathetic approach.
Fay regularly carries out pro-bono work to support the local community. She currently engages in the Firm's monthly legal clinic for Wales' leading homelessness charity, Llamau. At this clinic, Fay provides free legal advice to the vulnerable women and young people who are supported by Llamau. Previously, she carried out pro bono work at the Cardiff Civil and Family Justice Centre through the Support Through Court helpline.
Fay commented, "I am delighted and grateful to have been promoted to Associate Solicitor and I would like to take this opportunity to thank the Directors and all of my colleagues for their support and encouragement over the years. I am thrilled to begin the next stage of my career at this Firm and I hope to continue the work that I have done thus far in providing our clients with the best service possible. I am excited for what the future holds".
Founding Director, Melanie Hamer commented, "Since Fay joined us in 2019, she has been a stand-out lawyer. Fay always goes above and beyond the call of duty and is extremely diligent and hard-working. She is a shining light and a rising star. Fay's promotion helps us secure the future of the Firm as a leader in our field in England and Wales. Well done, Fay!"