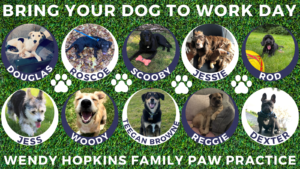 To celebrate 'Bring Your Dog To Work Day' we are proud to share the Wendy Hopkins Family PAW Practice team:
Douglas
Beth's puppy, Douglas was found with his littermates and his mum and taken to Cardiff Dogs Home. Douglas was 1 in April 2021 and is a Saluki Cross.
Roscoe
David James' Roscoe is a 12-month-old Chocolate Brown Labrador. He likes to keep David company when working at home by lying at David's feet when David is on a phone call or dictating. He has not yet developed any office admin skills although David remains hopeful.
Scooby
Melanie Hamer's Scooby is a Labrador Retriever Cross.
Jessie
Lucy Chandler's Jessie is working hard, as always! Jessie is a Cocker Spaniel, who was rescued from Cardiff Dogs Home when she was 7 months old.
Rod
Fay Jones' Rod is a Cockerpoo and had recently celebrated his 1st birthday and is busy supporting Wales in the Euros.
Jess & Woody
Houston Mapstone's Woody & Jess (named after Toy Story characters) are Yorkshire Terrier Cross Chihuahuas.

Teegan Browne
Jan Sullivan's Teegan Browne is a Transylvanian Hound Cross Kelpie, although not technically Jan's dog, she is the happiest, smiliest and loving dog in the world!
Reggie
Janine Butler's Reggie is a Border Terrier and nearly 4-years-old.

Dexter
Sam John's Dexter is a French Bulldog.