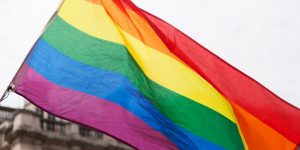 To celebrate LGBT+ History Month this year, Associate Solicitor, Sam John, presented the findings of the Law Society's Pride in the Law report at the Law Society's Wales office on 24th February 2023. Sam is a Committee Member of the Law Society's LGBTQ+ Solicitors Network and presented the findings with his fellow Committee Member, Laura Thomas, who is a Solicitor at Wigan Council.

During LGBT+ History Month 2021, LGBT+ legal professionals and colleagues who consider themselves allies to the LGBT+ community, were invited to take part in an online survey about their experiences of being LGBT+ or an ally in the legal sector. The Law Society's Pride in the Law report contains the results of that survey.

As well as his role on the Law Society's LGBTQ+ Solicitors Network, Sam also carries out pro bono work for the LGBTQ+ Law Clinic in Cardiff, providing advice in relation to all aspects of family law to LGBTQ+ people, who cannot afford to pay for legal advice.

Sam advises LGBTQ+ people in relation to a number of family law issues, including ending same sex marriages and civil partnerships, the separation of unmarried couples, cohabitation and prenuptial agreements, financial settlements and children.

We at Wendy Hopkins Family Law Practice continue to be very passionate about creating a more diverse and inclusive legal profession and all of our lawyers advise on family law issues that affect LGBTQ+ people.