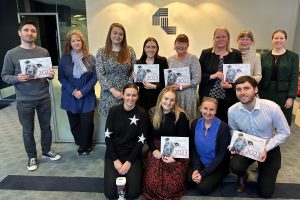 We are delighted to announce that our new charity of the year is Hope Rescue!
Who are Hope Rescue and what do they do?
Hope Rescue is a charity that saves the lives of dogs in six local authorities within South Wales; Merthyr Tydfil, Torfaen, Blaenau Gwent, Rhondda Cynon Taf, Bridgend and the western half of the Vale of Glamorgan. Hope care for dogs regardless of their age, breed or whether they have a medical condition. The charity also helps owners who can no longer take care of their dogs, by rehoming them responsibly.
Hope has a rescue centre in Llanharan (Rhondda Cynon Taf), which has 72 kennels, 5 exercise areas, a grooming room and 18 acres of woodland for the dogs to explore and enjoy their time out of the kennels.
Rachel Lewis, the Community Fundraiser at Hope Rescue, visited our offices this week with her ambassadog, Bryn. She explained that in 2021, the charity helped 568 dogs but in 2022, this sadly increased by 17% to 666 dogs. A perfect storm was created with over 3 million dogs being purchased during lockdown, in many cases by first time dog owners and from lower welfare breeders. This was swiftly followed by the cost of living crisis, which led to some pet owners having to make some tough decisions. At the same time, Hope's running costs increased exponentially, with adoption applications dramatically falling compared to the previous year. This tells us that charities like Hope Rescue need our help now more than ever!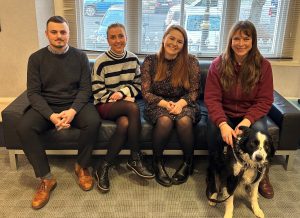 How do we plan on helping?
We are excited by the prospect of helping this great cause in any way we can. When attending our offices, Rachel explained the various ways we can get involved. There are larger events like the Cardiff Bay 10k, the Cardiff Half Marathon and skydiving, along with smaller fundraising activities like food/blanket donations and our famous bake-off. We already have plans in place for how we can begin to help this wonderful charity and we will update you here on our website and social media channels, in due course.
Rachel Lewis commented: 'We are thrilled about becoming Charity of the Year 2023 for Wendy Hopkins Family Law Practice and can't wait to strut our paws together at the running events and other fundraising activities! We would like to thank you all in advance for your support and look forward to working together to raise money for the many dogs in our care and the many many more who need our help. During this animal welfare crisis which is heartbreaking to see day in day out your support is truly appreciated now more than ever. If you would like to support Hope Rescue also, please email fundraising@hoperescue.org.uk and we'd be delighted to hear from you! Stay pawsome!'
Find out more about Hope Rescue here: https://www.hoperescue.org.uk/