At approximately 6pm (UK time) on Thursday 4th April 2019, MacKenzie (former wife of Jeff Bezos) announced the following statement via Twitter.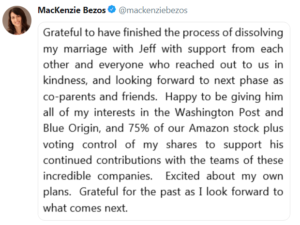 MacKenzie's statement follows on from Jeff Bezos announcing the separation on Wednesday 9th January 2019, via Twitter.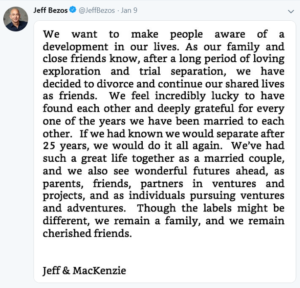 The joint statement on Twitter suggests the couple are looking for an amicable divorce. Within divorce proceedings, as part of resolving the financial matters, it is always recommended that parties try to discuss matters directly between each other and reach an agreement. That is usually the most cost-effective and quickest way of dealing with the financial matters.
The key financial elements mentioned in MacKenzie's statement includes all of MacKenzie's interests in the Washing Post, Blue Origin and 75% of the couple's Amazon stock going to Jeff Bezos. It has been estimated that the divorce deal will be worth in excess of $35 Billion. This will not place MacKenzie as the world's richest woman as originally thought. The title of the world's richest woman will remain with Francoise Bettencourt Meyers who has an estimated net worth of $53.1 Billion.
Consent Orders in England and Wales
In accordance with the law in England & Wales once the parties reach an agreement, they are required to file a Proposed Consent Order setting out the financial agreement with the Court. As this is such an important document, it is always best to have the same prepared by a Solicitor to ensure that all the assets and issues have been appropriately dealt with.
In addition to the Consent Order, a Statement of Information (form) is filed with the Court to provide a snapshot of the parties' finances. Both documents are then placed before a Judge sitting in the Family Court for their consideration and, hopefully, approval as the agreement does not become legally binding until it is approved by the Court.
The Judge then considers the terms of the Consent Order in conjunction with the parties' financial circumstances and will only approve the same if it is considered fair in the circumstances.  It is not unusual for the Judge to refuse approval of the Consent Order despite the agreement being reached directly between the parties which is why it is so important to obtain legal advice in relation to the same.
To discuss divorce, consent orders or any family law matters, contact us to speak with one of our family law experts.
T: 029 2034 3322
E: enquiries@wendyhopkins.co.uk
Related Articles:
An amicable divorce for the world's richest couple – what happens next? https://wendyhopkins.co.uk/insight/an-amicable-divorce-for-the-worlds-richest-couple-what-happens-next/
Published 05/04/19