We are thrilled to be ranked and recognised as Wales' only band 1 firm for family/ matrimonial law with Chambers & Partners 2022. Four of our directors are ranked in the editorial:
Melanie Hamer – Band 1
Thea Hughes – Band 1
Sarah Wyburn – Band 1
David James – Band 3
Band 1 – Family/ Matrimonial – Wales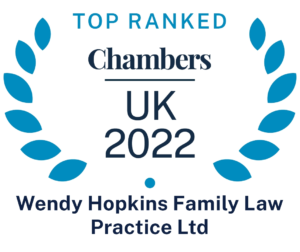 Editorial: 
What the team is known for
Renowned family law boutique handling all areas of private family law, including high net worth financial disputes, nuptial agreements and Children Act proceedings. Provides a versatile range of services, including collaborative procedures, and can advise on multi-jurisdictional issues. Also noted for its expertise in matters relating to civil partnerships and same-sex relationships. Offers further experience with family disputes that concern allegations of abuse.
Strengths
One source praises the firm for being "reliable and responsive" and also highlights "the level of compassion and care they show to clients."
Sources describe the firm as "the pre-eminent family firm in Cardiff."
A client says: "The team were extremely professional, empathetic and efficient, meaning I felt supported throughout a very stressful and upsetting time."
Notable practitioners
David James regularly advises clients on high-value financial remedy matters, particularly those involving corporate structures.
"His professionalism and expertise have been a revelation. He allowed me to take a step back and feel like someone was fighting my corner for the first time in a long time."
Melanie Hamer demonstrates particular expertise in financial remedy proceedings, including cases with complex aspects such as large property portfolios, offshore trusts and multi-jurisdictional interests.
"She's very practical and down to earth – she can cut through all the noise and just focus on the issues."
Sarah Wyburn regularly advises clients on divorces involving high-value assets, including complex business arrangements. She also has experience in matters that involve civil partnerships.
"I could not recommend a better guide and leader through the divorce process than Sarah Wyburn – her understanding of the relationship between both the legal and emotional issues enables her to give advice that is oriented towards getting the best result in your situation." "She's diligent in her advice and willing to go the extra mile for her clients."
Thea Hughes is an experienced family lawyer and trained collaborative practitioner. She regularly advises high net worth individuals on complex matrimonial finance disputes, often involving corporate and offshore aspects.
"Thea is excellent and a pleasure to work with – she is very empathetic with clients and builds a good rapport with them, while also being realistic and pragmatic." "She is creative and thinks outside the box."
*See the full editorial online at: https://chambers.com/legal-rankings/family-matrimonial-wales-1:27:11837:1
Published: 21/10/21