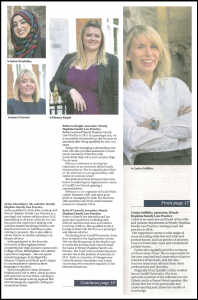 Four of our solicitors including; three from our matrimonial department and one from our wills and probate department have been named in recent publication from Wales Online – '30 young lawyers and accountants to watch' (Tuesday 17th October 2017).

Aysha Chouhdary, 28, solicitor, Wendy Hopkins Family Law Practice
"Aysha qualified in 2016, after working with Wendy Hopkins Family Law Practice as a paralegal and trainee solicitor since 2012. Specialising in all areas of family law, she has particular experience dealing with complex matters involving children and disputes between co-habiting couples relating to property. She is also able to advise clients on matters relating to an Islamic divorce.
Aysha graduated in law from the University of Birmingham before completing her legal practice course at the College of Law, Birmingham. Her skillset expands to languages – she can speak several languages, including Urdu, Mirpuri, Punjabi and Hindi, and is happy to communicate to clients in these languages if required.
Aysha founded the Asian Woman's Professional Club in 2015, which is active with members across Wales, meeting in Cardiff. She keeps a strong regional link with Birmingham, regularly visiting her connections there.
Rebecca Knight, associate, Wendy Hopkins Family Law Practice

"Rebecca joined Wendy Hopkins Family Law Practice in 2011 as a paralegal and, via a succession of promotions, she became an associate after being qualified for only two years.
Along with managing a demanding case load, she also provides assistance to more senior members of the firm with particularly high-value and complex High Court cases.
Rebecca continues to develop her reputation as an extremely skilled family law practitioner. She is regularly described as "an old head on young shoulders, with stacks of common sense".
She graduated from Swansea University before completing her legal practice course at Cardiff Law School, gaining a commendation.

Rebecca is a co-organiser of South Wales Ladies' Business Club, and takes great pride in managing the club. The business club members vary from small business owners to company CEOs."

Katie O'Connell, associate, Wendy Hopkins Family Law Practice
"Katie is a family law specialist and has particular experience in dealing with difficult matrimonial cases and matters involving children. She qualified in 2014, having worked with the firm as a paralegal and trainee solicitor.
Graduating from Cardiff University, Katie then completed her legal practice course. She was the first person in her family to go to university and has since risen through the ranks at Wendy Hopkins Family Law Practice. Her hard work and determination saw her rise to the position of associate in 2017. Katie is a member of Abergavenny Ladies Business Association and enjoys connecting with members regularly in her beloved hometown."

"Catrin is an associate and head of the wills and probate department at Wendy Hopkins Family Law Practice, having joined the practice in 2016.
Her experience covers a wide range of areas including elder law and wills and probate issues, such as powers of attorney, Court of Protection cases and contentious probate issues.
Catrin also regularly provides seminars on these areas of law. She is responsible for her own caseload and supervision of junior members of her team, and she also receives numerous referrals from other professionals and charities.
Originally from Llanelli, Catrin studied law at Cardiff University. She is an associate member of the Solicitors for the Elderly and is a fluent Welsh-speaker. Her clients find her to be personable and understanding and praise her wealth of knowledge."

See the full story from Wales Online here: http://www.walesonline.co.uk/business/business-news/30-young-lawyers-accountants-watch-13720217

Also included in the Western Mail: Business in Wales (Wednesday 18th October 2017, pg 17 -18)