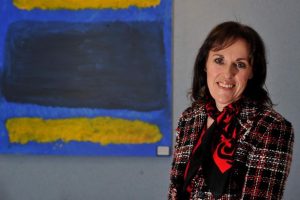 ONE OF Wales' leading divorce lawyers who regularly looks into the affairs of the rich and famous was born and brought up in Aberdare to a working class background.
Melanie Hamer's grandfathers were both coalminers whose families had moved to the area, and her parents both worked for the local authority, her father as a painter and decorator and her mother as a punch operator.
Now the senior director of Wendy Hopkins Family Law Practice, she was the first in her family to go to university.
"I was always very ambitious, very focussed on my school work, and knew from the age of 13 that I wanted to be a lawyer. I used to watch Crown Court on the TV at my grandparents' and I used to love it," she said.
"Coming from a humble background I never knew whether I would make it, so I hedged my bets before my A-level results were out and had a job in Lloyds Bank in Merthyr just in case."
She went to Aberystwyth University to study law, and fell in love with the place.
"Even though I've travelled now to lots of places I still think it's one of the most beautiful places I've ever been. When you're up on the hillside and you're looking out over the bay and the sun is shining, it's just glorious."
She met her husband in the first year, although they did not marry until the mid 1990s.
After graduating from Aberystwyth Ms Hamer went to law college in Guildford, which she found a shock to the system.
"I'd lived in Wales all my life and I was used to the friendliness and openness of the Welsh culture, and I was mixing in Guildford with lots of people from far wealthier backgrounds. They were lovely people but it took longer for them to accept me and for me to get to know them properly," she said.
Then she came to Cardiff to do her articles, getting a training contract with Phillips and Buck, now Eversheds. The firm took on 10 articled clerks who started at the same time each year, so Ms Hamer found a "readymade band of friends".
It was the height of the Thatcher era, and for the 10 young lawyers long days and hard work was the accepted norm.
"I used to think it was an early night if I got home in time to watch Coronation Street or Eastenders. We worked hard but we played hard as well so it was good fun," Ms Hamer said.
Phillips and Buck in the 1980s was a forward-thinking firm with a number of senior female equity partners on the board. "I didn't feel I was treated any differently as a woman than my male counterparts were," Ms Hamer said.
She left in the mid-1990s to help up set Wendy Hopkins Family Law Practice because Eversheds was becoming more focussed on commercial and corporate law, and family law no longer fitted in with their business model.
Ms Hamer found specialising in family law a tough decision. "I liked all the different departments I did, company, commercial property, employment and family," she said.
"The partners wanted me to do the company and commercial work but I thought, I'm going be working an awfully long time and it's got to be something I really love."
With family law, she added,  "you get a bit of everything. When you're doing divorces involving businesses, a lot of what you've learnt in company and commerce can come into it."
The new practice was set up in 1996, when Ms Hamer was 30. "When you're young you're quite brave and I approached it on the basis that, I'll give it three years and if it doesn't work I can always get a job somewhere else," she said.
"Eversheds gave us the whole family law department so we weren't starting completely from scratch, we had a client base ready for us."
There were two equity partners and four other staff at the beginning. As the first niche family law firm in Wales it had a unique proposition and it took off quickly.
Since the1990s other niche firms specialising in other areas such as employment law have sprouted up. "A lot of lawyers began to realise that the days of the high street practice where you're a jack of all trades and master of none have gone," Ms Hamer said.
Divorce is the major part of what the firm does, although it also has wills and probate department, which services our divorce clients, and it also does children work when parents can't agree about arrangements regarding their children.
The firm's senior partner – or since incorporation last month its senior director – Ms Hamer spends half her day doing client work while the other half might be spent dealing with business matters, running the firm and raising its profile.
"The more senior you become the more difficult the divorces you deal with," she said.
"Most of my divorces are dealing with the financial aspects of high net worth clients, and that's what I really enjoy, trying to find ways forward for the clients. A lot of my divorce clients are business owners so all the Eversheds training really helps."
She is also a founder of South Wales Ladies Business Club, and one of a growing number of female directors of Cardiff Business Club.
"We now have three businesswomen who are directors of Cardiff Business Club and the idea is that we are trying to encourage more business women and younger people to come along," she said.
"I remember when I was at Phillips and Buck going along to Cardiff Business Club and being the only woman there. But I went to a lunch for the German ambassador this spring and there were more women than men at the table, so we're getting there."
Wendy Hopkins Family Law Practice has continued to grow organically, achieving a turnover of £2m and employing 14 lawyers.
"In the last five years the amount of work from outside Cardiff has grown. We tend to get a lot of work now from clients from all parts of the UK and overseas who we never even meet," she said.
"I've had a lot of cases in London courts against London lawyers, and the clients like the fact that our hourly rates are probably a third of the London lawyers, and the same partner runs with the case from start to finish."
In recent years the firm has counted a number of professional footballers among its clients, including some from the Premier League.
"That's developed from contacts I've made in the football industry, which is interesting because six or seven years ago I'd never been to a football match, being from Aberdare which is very rugby focussed," she said.
"Now I'm a massive Cardiff City fan and I go to all their home games."
She attributes the number of cases from overseas clients from the fact that, if you're a woman, the courts in England and Wales are "the most generous in the world" when it comes to a divorce settlement.
"There are sometimes commercially savvy wives who will come and live here for a period and then issue a divorce here," she said.
Besides divorces the firm also handles cohabitee disputes, which she describes as "a complete nightmare" for the clients.
"The law which deals with cohabitee disputes is completely unsatisfactory and not as precise as it could be. It's very time consuming and laborious and expensive," she said.
Returning to divorces, she thinks the system should be made less acrimonious.
"We have a duty to explore with our clients the most amicable, straightforward way of resolving cases, rather than the traditional route of just issuing proceedings and fighting it out in court," she said.
"Any new client that walks through these doors will be told about the availability of mediation and collaborative law and how that can help them."
She added: "It's just too easy to write nasty letters to other divorce lawyers, I'll pick up the phone and speak to the lawyer who's acting for the husband or wife and we'll have a half-hour phone call and we'll achieve a lot more in that one half-hour phone call than endless letters back and forth."
The firm was incorporated in May, a move that Ms Hamer says will open up new areas for it and make it more commercial.
But she is less content with other changes to legal services in recent years.
"It's hugely sad what's happened to Legal Aid," she said.
"Coming from a working class background I've come from an area where most of the people would have been eligible for Legal Aid and I was always really committed to the Legal Aid system."
The progressive whittling down of the Legal Aid system led the practice to stop doing Legal Aid work last summer  for commercial reasons.
"It got to the stage where emotionally you felt you wanted to do Legal Aid work because maybe that was your background and your culture, but commercially you had to make the very tough decision that you couldn't do it anymore," Ms Hamer said.
"A lot of people don't realise that their access to lawyers has been cut off. They're going to be representing themselves in court, and that's going to be hugely stressful for the clients."
The opening up of legal services to businesses other than traditional law firms may provide a partial solution, with people who don't get Legal Aid but can't afford a lawyer opting for online services.
But Ms Hamer believes there's still a place for law firms such as Wendy Hopkins Family Law Practice.
"I'd like to think that niche firms like us will survive and thrive because there's a lot to be said, especially in divorce cases, for the personal contact as opposed to filling out forms online," she said.
"Now that you can have non-lawyers involved in law firms that's going to change the dynamics, but I think that's a good thing because we're trained as lawyers, not as finance directors or HR directors," she added.
Ms Hamer, who lives in Pentyrch near Cardiff, is married and has two school-age children. With both her and her husband working full time, balancing work and family life is difficult but tends to work "unless there's a crisis", she says.
"Then it resurrects all the guilt you feel as a working mother when you try to be all things to all people and you can't. You have to be extremely organised to make it work," she said.
She run two or three times a week, not in the gym but always outdoors in the fresh air.
Cases can be upsetting, she says, but she's good at switching off. "I have to be because as soon as I get home I hit the ground running with homework and supper and bath time. You've got to leave your work behind because all of a sudden you're Mum," she said.
Now 47, she is expecting to work another 12 years or so before retiring.
"You have to realise that you won't always be the right person to lead the law firm. There has to be a limited shelf life for any business leader and there should be people coming along behind you with fresh ideas," she said.
"I'm very happy for that to happen when the time comes, but at the moment I still think I've got a lot to give and I feel I'm in my prime as a business woman."