Happy Saint Valentine's day to you all. Have you remembered to exchange gifts, flowers or cards? Valentine's Day, also called Saint Valentine's Day or the Feast of Saint Valentine, is celebrated annually on February 14 and is projected as the prime opportunity to demonstrate your love and affection to that special somebody in your life. Saint Valentine's day originated, however as a Western Christian feast day, honouring one or two early saints named Valentinus. Its origin has somewhat been lost in translation as Valentine's Day is now mostly associated as a commercial celebration of romance and romantic love, across the World.
A number of martyrdom tales are associated with various Valentines, allied to February 14. These tales include a written account of Saint Valentine of Rome, imprisoned for performing weddings for soldiers, who were forbidden to marry. Legend has it that, during his imprisonment, Saint Valentine restored sight to the blind daughter of his judge and before his execution he wrote a letter to the girl and signed "Your Valentine" as a farewell.
The 14th day of February first became connected with romantic love within the circle of Geoffrey Chaucer in the 14th century, when the tradition of courtly love flourished. In 18th-century England, it evolved into an occasion in which lovers expressed their love for each other by presenting flowers, offering confectionery, and sending greeting cards (known as "valentines"). Since the 19th century, handwritten valentines have given way to mass-produced greeting cards. In some countries in Europe, Saint Valentine's Keys are given to lovers "as a romantic symbol and an invitation to unlock the giver's heart".
In the lead-up to the day in question, (i.e. from 26th December onwards), our shops are full to the brim with boxes of chocolates, red roses galore, teddy bears and even a St Valentine's Day sausage!! It's arguable that the notion of showing love and affection for another person is lost in the hype, commerciality and expectation that's now laden with the 14th day of the second month in the year.
My colleagues in the matrimonial department often deal with legal quandaries connected with the affairs of the heart (sometimes on a literal basis). More often than not the work is connected to heart break and love loss, albeit, on occasions they will be asked to complete a Statutory Deceleration for a couple planning on marrying abroad, or the preparation of a cohabitation agreement, for a couple who are about to move in together for the first time. Love, or, perhaps the lack of it, is a central theme to the work that they do, when advising on issues such as divorce and financial applications.
But what of the private client department?
Wills, probate and the concept of one's death hardly makes you feel warm and fluffy inside. For example, when I take instructions from clients in relation to the drafting of their wills, I always ask, whether they wish to include any funeral wises – hardly the most romantic of concepts. However, another question that I commonly ask cohabiting couples is whether they intend to marry in the future and if so, I would suggest the inclusion of an expectation of marriage clause, within a will, in order to avoid the automatic revocation of the will, following the marriage. I firmly believe that I have planted several seeds… and I will take some credit for the subsequent marriage of one of my clients, following an appointment to finalise his will.
The making of a will is the only certain way of ensuring that you can leave your estate and possessions to those that you love, be that a spouse, a partner, children or friends.  A properly drawn will discharges the moral responsibility that each of us have to ensure that we do not leave our financial affairs in a tangle, after our days.
It may be an old adage but it remains true that there are only 2 certainties in life – death and taxes. Failing to plan for the inevitable could lead to families losing out on an inheritance or losing out by way of increased probate fees and solicitors fees (and who wants that).
For those of you who are cohabiting, the making of a will is a must in order to ensure that your partner can inherit from your estate. Contrary, to popular opinion, there is no such thing as a common law marriage, therefore unmarried couples regardless of how long they have been living together will receive nothing under the intestacy rules. Therefore, if you are not married and die intestate, your estate will be distributed according to the intestacy rules, with the children of the deceased inheriting fist, followed by the parents, if the deceased was childless. If there are no surviving parents, the estate will be inherited by the deceased's siblings and then his or her nieces and nephews. Cousins will inherit if there are no surviving nieces and nephews with the Crown, eventually inheriting the estate if there are no surviving family remembers at all.
Should you therefore wish to provide for an unmarried partner in the event of your death, the moral of the story is to either marry or in the alternative, make a will. I believe that the latter is considerably cheaper!
Preparing a deed of gift for a property, is commonly undertaken in order to demonstrate a person's appreciation for the love and affection shown and received by a relative, such as a son or a daughter. Historic deeds of gift were commonly expressed by the use of the words "in consideration for the natural love and affection for the Donee…"
Yesterday, I attended a funeral, held for one of my former clients, who sadly passed away last month. He had no surviving relatives. The congregation consisted of his solicitor and five of his former carers from the care home where he formally resided. It was a pleasure and a delight to hear those carers speak so fondly of my client and to share their contended memories of him. He was loved by his carers and by his friends, which brings to mind the words of Orson Welles – "we're born alone, we live alone, we die alone. Only through our love and friendship can we create the illusion for the moment that we're not alone".
Therefore, perhaps next year, consider an unconventional Valentine's gift. Think outside the (chocolate) box, so to speak and make a will as the ultimate gesture of your love. After all, to borrow this time from Philip Larkin, "what will survive of us is love".
If you would like to speak with one of our experts from our Private Client department you can reach us via the contact details below:
T: 029 2034 2233
E: enquiries@wendyhopkins.co.uk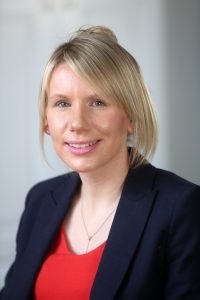 Catrin Griffiths – Head of Private Client
Published: 19/02/19