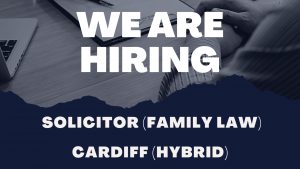 We have vacancies available for two Solicitors (up to 3 years PQE) to join our award-winning family team based in Cardiff.
COMPANY DESCRIPTION
Wendy Hopkins Family Law Practice was established in 1996 and was Wales' first specialist family law firm. For over 26 years the firm has continued to grow and offer a comprehensive range of family law and wills & probate services. Known for its reputation, the firm is award-winning and is recognised as the leading firm for family law in Wales with one of the largest teams in the UK.
LOCATION: Cardiff, CF10 3BY
SALARY: Commensurate with experience.
HOURS OF WORK: 37.5 Hours per week – hybrid working – part in the office and part at home.
1. Tasks
All aspects of fee earning work to include the following:
Managing your own clients, attending meetings with clients, writing to clients, taking telephone calls from clients, making telephone calls, attending court appointments, conferences with Counsel, writing and receiving letters, drafting, research, supervision of your secretary and paralegals/trainees who assist with your files; press releases; helping the Directors with marketing; delivering and chasing bills; networking.
The purpose of your role is to provide a quality and effective service for clients.
2. Duties and Responsibilities
To deal with all client matters in as swift and efficient manner as is reasonably practicable given the needs to comply with legal formalities and to take proper care to ensure that mistakes are not made.
Assisting the Directors in marketing the Firm and helping the Firm evolve.
To deal with all correspondence and other queries within 48 hours of receipt so far as it reasonably practicable.
To ensure that bills are promptly submitted.
3. Skills
To deal with client affairs in a courteous and efficient manner.
To display the ability and willingness necessary to generate an increased workload both by way of recommendation from satisfied clients and by the generation of business contacts.
4. Experience
The legal experience of a qualified solicitor.
5. Development
The opportunity to attend courses relevant to work areas subject to circumstances and agreement and to comply with continuing professional development.
To apply, please send your CV and a cover letter to Thea Hughes: thughes@wendyhopkins.co.uk