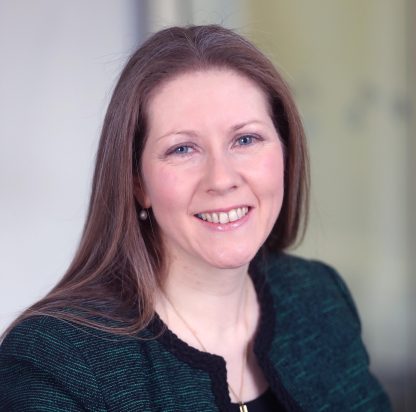 CAREER
Sarah Wyburn has a formidable reputation in divorce, financial and children matters. She has considerable experience of high profile cases and in matters involving high net assets. Sarah regularly acts for clients where complex property, pension, and business arrangements are involved. Sarah regularly represents business owners, medical professionals, legal and financial professionals, and professional sports people.
She also has in-depth knowledge and experience of the law relating to civil partnerships, and her work in this field is highly regarded.
Sarah is very experienced in acting in complex private law children matters involving arrangements for children, including relocation cases.
Receiving consistently high praise from her clients, Sarah's exceptional professionalism is widely recognised. She has achieved spectacular results for her clients and is regarded as one of an elite group of family lawyers in Wales.
Sarah regularly contributes to public policy debates and topical news stories.
EXPERTISE
LAWYER RANKINGS
The Legal 500 – Leading Individual – Family Law – Wales
"Sarah Wyburn is professional, technically sound, empathetic and has always achieved good outcomes for her clients."
"Sarah Wyburn has niche expertise in relation to same sex marriage cases and is a key member of the team."
"The team is rounded out at partner level by the 'exceptional' Sarah Wyburn, who has niche expertise in relation to same sex marriage cases."
"Wyburn being particularly noted for her expertise advising on gay marriage and civil partnerships."
"The 'fantastically thorough' Sarah Wyburn(who is a 'really safe pair of hands') handles divorce, financial and children matters, and also has significant experience advising on gay marriage and civil partnerships."
"Sarah Wyburn is a leading authority on civil partnerships and is a key member of the team."
Chambers and Partners – Family/Matrimonial – Wales
"Sarah is untiringly supportive to clients while giving the frank and clear advice necessary."
"She is able to explain complex legal principles in a manner which is easy to understand and offers clients an empathetic and honest approach throughout."
"Sarah Wyburn regularly advises clients on divorces involving high-value assets, including complex business arrangements. Clients value her "thoroughness and her great interpersonal skills."
"Sarah Wyburn regularly advises clients in divorces involving high-value assets and international aspects."
"Sarah Wyburn frequently handles complex ancillary relief cases and has a strong track record for advising clients on issues relating to same-sex marriage and civil partnerships. One source notes: 'I received an excellent level of attention, assuredness and confidence from her and she helped to guide me through my options in a crystal-clear manner.'"
"Sarah Wyburn focuses her practice on assisting clients in complex ancillary relief proceedings and is noted for her extensive knowledge of issues associated with civil partnerships and same-sex relationships. According to interviewees, 'she is professional, knowledgeable and instils confidence.'"
"Extremely efficient and very experienced in financial remedies cases."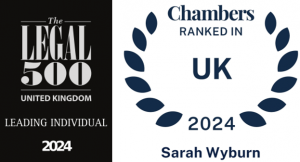 EDUCATION
1996 – 1999 – Cardiff University
MEMBERSHIPS
Sarah initiated the Firm becoming the first law firm in Wales to become a member of the Stonewall Diversity Champions Programme.
Sarah Wyburn is a trained in adult mental health first aid.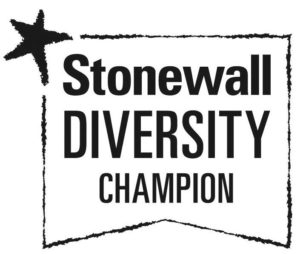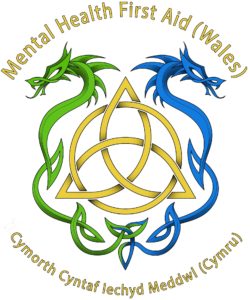 TESTIMONIALS
"Sarah's experience was evident and valuable in all my dealings with her. She was professional and empathetic whilst remaining unbiased, clear and honest in the options available to me. I would have no hesitation engaging Sarah again or in recommending her to others."
"Thank you Sarah for the extremely professional way in which you have handled my case, and for everything you have done, which has been very much appreciated."
"Thank you Sarah. Your attention to detail and sound advice has helped steer me through this difficult time. I would not hesitate to engage you should I need advice in the future, or to highly recommend you to others in similar circumstances."
"You've been wonderfully supportive over the last nearly two years, and I'm very grateful — many thanks for taking on this case, and for advising and representing me so sensitively and supportively. As you know, I've already recommended the Practice on one occasion, and will be very happy to do so again if I know of anyone else in need!"
"I am extremely grateful for all the help and guidance you have provided to myself and this is something that I will never forget." 
"Can I take this opportunity to thank you for the advice, guidance and encouragement throughout this case when I felt all was lost."
"Due to the excellent support, advice and representation from Sarah and her team during divorce proceedings I have been able to forge ahead with my life. With divorce being one of the most stressful situations that you can find yourself in, I would certainly recommend Wendy Hopkins Family Law Practice Limited as your professional advisers and representation."
"Fantastic service Sarah."
"Excellent advice, high standards… Sarah Wyburn is an extremely skilled solicitor."
"A huge THANK YOU to Sarah and her team. My life is my own again thanks to you!"
"Thank you, Sarah, for all you have done on my case. It has been a horrible and difficult time, but you have given me the best advice and been such a lovely solicitor. You are a true inspiration to me. You have empathised with me and provided support and strength when needed. THANK YOU."
"I just want to say thank you. I couldn't have done this without you Sarah. I'm so very grateful."
"I'm so grateful that you were recommended to me. I can't thank you enough Sarah for everything you have done. Your work on my behalf, support, and attention to detail has been amazing"
"I simply can't praise, recommend or thank Sarah enough for the work she has done for me. She helped me through what was a very difficult divorce but always ensured that the process ran as smoothly as possible. She was professional and reliable but above all highly personable. She was always extremely prompt and thorough in all her responses; always on top of all deadlines and easy to contact. She's highly knowledgeable, realistic in her approach and at every step of the process I had every faith in her. She was very caring and understanding; always understood and remembered everything I said to her and always relayed information with the utmost tact and professionalism. I am extremely grateful for the service she provided and am very pleased with the outcome of my divorce."
PERSONAL
Sarah is originally from Ebbw Vale and she now lives in Cardiff. Her hobbies include reading, the theatre, and running.
LINKEDIN