Will Writing Cardiff
Everyone should make a will. It is the only way to ensure that in the event of your death, your property is dealt with and your loved ones are provided for exactly as you would want. There are DIY options available for wills, and companies claiming to specialise in will writing, however, we strongly recommend seeking professional help from a solicitor for your will. Our private client team provide a range of services including will writing and probate matters.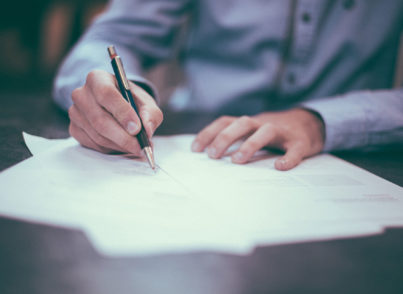 How a will is made
The formalities of making and writing a will are covered by the Wills Act 1837, and any mistake or oversight – such as incorrect wording, or failing to follow precise procedures – can invalidate a will causing difficulties after your death.
However, a properly drawn up will means that property will be left in accordance with your wishes. At Wendy Hopkins Family Law Practice, our expert team specialises in will writing and has drawn up thousands of wills over the years. Our quick, easy service will walk you through every step of the process, and give you a document that you can depend on.
We understand the complexities of drafting and writing a will to make sure your wishes are carried out as closely as possible and can often recommend ways of achieving what you want that you may not have considered.
Our team regularly uses both bare and discretionary trusts within wills to help provide for minor and disabled beneficiaries. We have drafted a large number of wills that include life interest property trusts to assist in cases of second marriages, to ensure that the children of the first marriage are provided for while protecting the security of the surviving spouse.
Next Steps
The whole point of a will is to give you peace of mind that your affairs are in order should the worst happen. By relying on the specialist team at Wendy Hopkins Family Law Practice to properly draw up your will, that peace of mind is yours. Contact us today and we will provide advice tailored to your requirements.
Get in touch
Testimonials
"My will was dealt with smoothly, quickly and very efficiently."
"I would like to thank you for the excellent, professional way you handled the WILL and the Power of Attorney matter. You were so patient at all times and your financial charge was supremely reasonable. Truly, your are a credit to you profession."
"Thank you very much for helping sort out my Will etc. Your time, help, patience and professionalism made you a pleasure to work with. I will definitely come back to you when I need further help."